Filter by Category
MS Word
MS Word Advanced BTWD*0608*600
with Janice Cheever

Apr 5, 2023 at 9 am
In this course, you will: Use images in a document. Create custom graphic elements. Collaborate on documents. Add reference marks and notes. Secure a document. Create and manipulate forms. Create macros to automate tasks.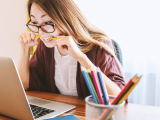 MS Word Level 1 BTWD*0738*600
with Janice Cheever

Jun 21, 2023 at 9 am
Word Level 1 provides the basic concepts and skills to start being productive with Microsoft Word: how to create, format, and set up a document, and how to add graphics and tables. Students will benefit most from this course if they want to accomplish basic workplace tasks in Word, or if they want to have a solid foundation for continuing on to become Word Expert. If students intend to take a Microsoft Office Specialist or Expert exam for Word, this course is a good place to start preparation, but they will need to complete other courses to be fully prepared for either exam. The course assumes that students know how to use a computer, and that they are familiar with Microsoft Windows.